Custom Mouse Pads
Customize In 5 Easy Steps
Choose Your Pre-Designed Mouse Pads Calendar
Choose Your Pre-Designed Mouse Pads Calendar

Related Items
Brands That Trust Us
Why Choose Mousepads Now?
Rectangles, squares, and round mousepads. No matter what you want when it comes to shapes, Mousepads Now can provide. And if you want something different we can create custom mouse pads that are die-cut into whatever shape works best for you.
Do you think the old felt and acrylic mousepads you see everywhere are a little boring? A touch bland, or a little clichéd? Then you're in the right place. Mousepads Now doesn't limit you to using the materials that everybody else uses for their pads. Leather and aluminum alloy are on the menu, too, and both materials give you a mousepad that can take a real beating.
Order as Many Personalized Mouse Pads as You Want
Too many personalized mouse pad manufacturers put an unwanted restriction on their services- such as having a Mousepads Now doesn't restrict order sizes. If you want thousands of mousepads to build your business brand, we're here for you. But if you just want one that speaks to you as an individual, we'll create that, too.
Place your order for your mousepads with us online, on the phone, via our email address (sales@mousepadsnow.com), or by chatting to us live when you're on our website.
Tell our representative the shape and material you want for your mousepad.
Send an image (via email) that shows us what you want printed on your pad.
Check the e-proof of your order before it goes through to confirm it's what you need.
Place your order and wait – we'll have it with you in a matter of days.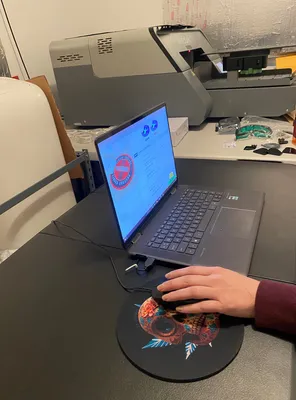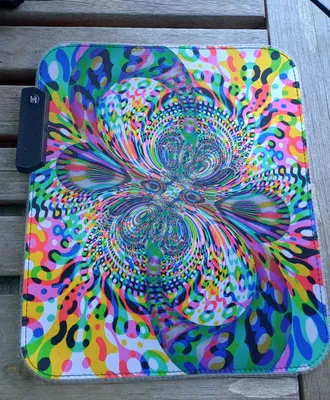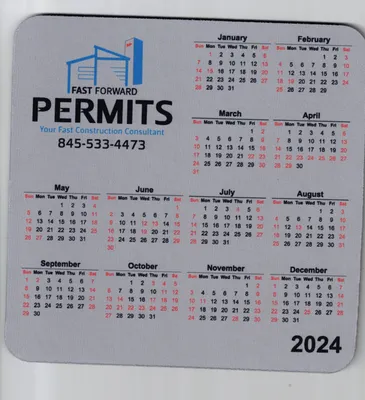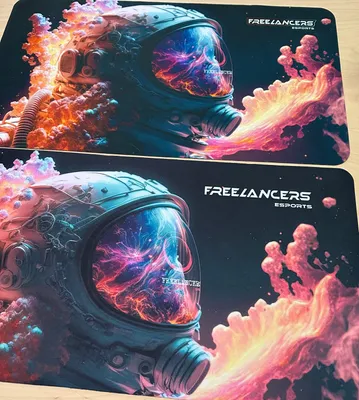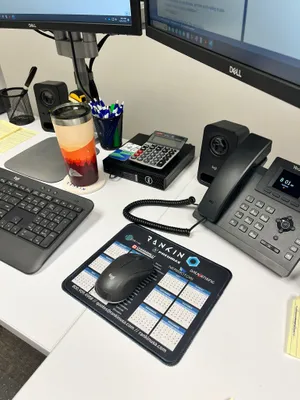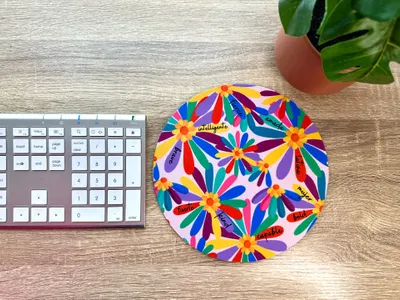 What materials do you use for your custom mouse pads?
You get a choice between five main materials – Soft Woven Polyester, felt, acrylic, leather, and aluminum alloy. A combination of felt, acrylic, and Soft Woven Polyester is most common for mousepads, though leather and aluminum are great for a more unique-looking pad.
Can I use my own images for personalized mouse pads?
You can use almost any image for your custom mouse pads. Note the use of the word "almost." Licensed or copyrighted material isn't permitted and Mousepads Now won't complete a design that uses somebody else's imagery.

As for image file types, we recommend sending your designs in AI, EPS, or PDF format. We can create mousepads using raster-based images (such as JPEG), but require the image to be sent in the size it'll be displayed on your personalized mouse pad.
What are the design restrictions for custom mouse pads?
Beyond the copyright, license, and image restrictions mentioned above, there's practically no limit on what you can put on your mousepad, with one obvious caveat – the image has to be small enough to fit on the pad.
Do you have a warranty?
While Mousepads Now doesn't have a specific warranty, you do get 30 days (from the delivery date) to send your mousepads back if there are any production issues.
Are custom mouse pads good for gaming?
A custom mouse pad can be perfect for gaming, especially if you find your mouse regularly sliding off your current mouse pad when you're lining up a shot or trying to cycle through your inventory. Our pads come in 12 x 31.5 and 12 x 27.5-inch variants, meaning slips won't be a problem anymore.
How can I keep my personalized mouse pads in good condition?
It's best not to saturate your mousepads in water when cleaning. Instead, get a bowl of water, add a mild detergent, and then use a toothbrush (dipped in the detergent) to scrub the pad clean. Do that every three months or so and your mousepads will always look great.
Is there a minimum order for your mousepads?
No!

If you only want one personalized mouse pad, we're as happy to help you as we are the customers who want over 2,000 mousepads.
How do I return my custom mouse pads if I'm unsatisfied?
You have 30 days from the date of delivery to inform us if you have a complaint. As for how you do so, a written email along with pictures of the issue must be sent to
(sales@mousepadsnow.com)
. Our quality control team investigates your issue and approves or denies the return.
Assuming we identify an error, we ask customers to ship their faulty mousepads back to us using ground shipping, after which we process a full refund (or replacement, if you prefer) in seven-to-10 business days.
Testimonials:
This is what some of our clients think about our products
I was looking for a custom mousepad with my favorite team's logo on it, and I found this online store. The website was easy to use and the prices were reasonable. I was able to upload my own image and the customer service of this shop is really helpful. They also did a great job of printing it on my mousepad. The mousepad is high-quality and it looks great. This is a really good shop so come check it out!
- Henry Fitzgerald
I ordered a custom mousepad for my work desk, and I'm really happy with it! The mousepad is made of a durable material that is perfect for everyday use, and the design I chose is both professional and stylish. I would definitely recommend Vistaprint to anyone looking for a custom mousepad for work.
- Olivia Mitchell
I've been using my custom mouse pad from this store for a few months now, and I'm really happy with it. The material is durable and the surface is smooth, so my mouse glides easily. I also like that the mouse pad is non-slip, so it doesn't move around on my desk. I am overall satisfied with my purchase and will recommend this with my colleagues!
- Demarcus Bishop
I'm a graphic designer and I needed a custom mousepad that would showcase my work. I found Mouse Pads Now and I was really impressed with the selection of designs. I was able to upload my own artwork and they did a great job of printing it. I really loved the final output of the mouse. They made it exactly the way I wanted it to be. I would definitely order again and will also recommend this store with my co-workers!
- Kennedy Mercer